HOW TO: Prevent Premature Skin Aging
Are you worried about premature skin aging? Don't panic! With a few simple steps, you can keep your skin looking youthful and healthy.
7 WAYS TO REDUCE PREMATURE AGING
Protect your skin from the sun every day.
Wearing SPF 30 or higher on your face, neck and chest on a daily basis is the best thing you can do to prevent aging of your skin and keep it looking young. Whether spending a day in the sun or simply running errands, sun protection is essential.
You can also protect your skin by seeking shade and covering up with UPF clothing — such as a lightweight and long-sleeved shirt, pants, a wide-brimmed hat, and sunglasses.
Consider using a retinol or Rx Tretinoin cream.
Should you be using a retinol or retinoid? Yes, yes and yes! Aside from SPF, retinoids are the #1 product for promoting long-term skin health across all skin types.
Retinoids are vitamin A derivatives that increase cellular turnover, which causes our skin to regenerate more quickly, thus making your skin look more youthful, vibrant, and refreshed.
The umbrella term "retinoid" is used for all vitamin A derivatives (ex: OTC retinol and retinaL, and prescription strength Tretinoin). What differentiates them is their strength, or how many conversions they must go through to become active and effective on the skin.
The only negative is that these products can be drying and irritating so you need to pick the right product for your skin type. See our Aesthetician Corner below for some tips or schedule a free aesthetician consult to find the right product for you.
Vitamin C, your new bff.
An anti-aging ingredient everyone should be using every morning! Vitamin C's strength is prevention and protection, it is essential for healthy skin.
This antioxidant fights free radical damage and prevents oxidative damage to the skin cells. Free radicals get produced in our skin daily from UV exposure, environmental toxins/air pollution and household chemicals. Damage caused by free radicals can affect our skin DNA in addition to breaking down our skin's collagen, which can lead to skin cancers, fine lines and wrinkles, dark spots, and loose, saggy skin. Using a vitamin C neutralizes the free radicals, preventing this type of damage.
Vitamin C brightens the skin and improves skin texture. It fades hyperpigmentation (sun spots, melasma, and post-acne marks) by inhibiting melanin production and decreases inflammation creating a more even complexion.
Cleanse and moisturize your skin daily.
Gentle washing helps to remove pollution, makeup, and other substances without irritation. We recommend washing your face twice daily and after sweating.
Applying a moisturizer immediately after cleansing traps moisture in the skin and gives it a more glowing plump appearance.
Apply self-tanner rather than tanning. 
Every time you get a tan, you age your skin. This holds true if you get a tan from the sun or a tanning bed.
All tanning methods emit harmful UV rays that in addition to causing skin cancers, breakdown collagen and elastin in the deeper layers of the skin which can cause skin to thin and become wrinkled and crepy over time.
Maintain a healthy lifestyle.
Eating plenty of fresh fruits and vegetables that contain antioxidants may help prevent damage that leads to premature skin aging.
Exercising daily can improve circulation and boost the immune system which may give the skin a more youthful appearance.
Avoid smoking, and drink alcohol in moderation, as these are damaging to skin health.
Stay hydrated by drinking water throughout the day.
Water plumps skin cells and enhances elasticity, it is crucial for keeping skin looking youthful. Dehydrated skin can look dry, wrinkled and dull.
Proper water intake helps carry nutrients to skin cells and enhances the effects of topically applied products.
If you have questions about what products or treatments are right for you, see one of our board-certified dermatologists or licensed aestheticians. They will evaluate your skin and develop a regimen curated just for you.
---
NEW PRODUCT ALERT!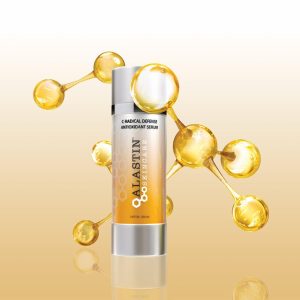 ALASTIN Skincare®️'s C-RADICAL Defense Antioxidant Serum is powered by a proprietary, encapsulated Vitamin C (Sodium Ascorbate). This clinically-proven formula provides comprehensive environmental protection and supports the skin's ability to conserve elastin for skin that looks smoother and more radiant (purchase now).
In a Clinical Study, C-RADICAL showed the following in as early as 8 weeks:
71% reduction in the appearance of uneven skin texture
69% reduction in the appearance of redness
50% reduction in the appearance of fine lines
HELPS TO:
Protect skin from environmental stressors such as free radicals & UV damage
Stimulate collagen and conserve elastin
Improve the appearance of skin tone, texture, firmness, and luminosity
Reduce the appearance of fine lines, wrinkles, redness, and hyperpigmentation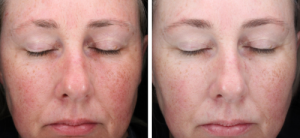 ---
AESTHETICIAN CORNER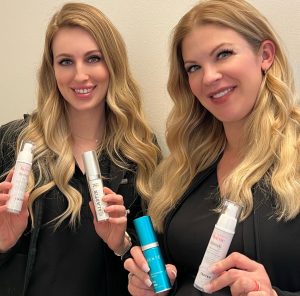 What are the benefits of retinoids?
Reduces the appearance of fine lines + wrinkles by increasing collagen production
Improves skin tone + texture for smoother, firmer looking skin
Aids in fading sun spots and smoothing out rough patches on the skin
Increases cellular turnover, which can minimize breakouts
Stimulates production of new blood vessels on the skin, which improves the color of the skin
Do I need to use a retinoid?
Retinoids help keep our skin looking younger and healthier. We recommend that everyone over the age of 25 should use one. Plus, if you struggle with acne at any age, retinoids are one of our most recommended treatments!
To get the most of any retinoid, frequent use is key! The best retinoid is the one you will use consistently, which would ideally be 5-7 nights per week. Retinoids are the most highly researched "anti-aging" topical in the market (with over 70+ years of data) showing that the 5-7 nights range will have the most impact on your skin.
Schedule a FREE aesthetician consult to have us help you select the best retinoid for your skin type that you can tolerate and use regularly.