HOW TO: Exfoliate (for glowy skin!)
Exfoliation is one of the secrets to smooth, soft, and healthy-looking skin from head to toe, but using the right products and treatments is key.
---
EXFOLIATION TYPES
There are two main methods for exfoliation — mechanical and chemical — and the methods you choose should be guided by your skin type.
Mechanical Exfoliation: Uses a tool, such as a brush, blade, sponge, or scrub to physically remove dead skin cells.
Chemical Exfoliation: Uses chemicals, such as alpha and beta hydroxy acids or retinols to dissolve or gently remove dead skin cells.
HOW TO SAFELY EXFOLIATE AT HOME
To prevent skin damage while exfoliating, our board-certified dermatologists recommend the following:
Consider the skin care products you already use. 
Some medications and even over-the-counter products may cause your skin to be more sensitive or peel so you need to be aware of these prior to adding other exfoliation treatments. Examples of these include prescription tretinoin creams, and OTC products containing retinol, benzoyl peroxide, salicylic acid, lactic acid and glycolic acid.
Select an exfoliation method that suits your skin type. 
Dry, sensitive, skin may prefer just a washcloth and a mild chemical exfoliator, as mechanical exfoliation may be too irritating for this skin type.
Procedures: Hydrafacial
Oily, thicker skin may want to use stronger chemical treatments or mechanical exfoliation.
Products: Rx Tretinoin, SkinCeuticals Glycolic 10 Renew Overnight
Procedures: SilkPeel Dermalinfusion
Darker skin tones need to be aware that too aggressive forms of exfoliation may result in dark spots on the skin called post inflammatory hyperpigmentation
Be gentle with your skin. 
If you use a scrub or chemical exfoliator, apply the product gently using small, circular motions. Do this for about 30 seconds, and then rinse off with lukewarm — not hot — water.
If you use a brush or sponge, use short, light strokes.
Never exfoliate if you have open cuts or wounds or if your skin is sunburned.
Follow with moisturizer. 
Find the right schedule for you. 
How often you exfoliate depends on your skin type and exfoliation method. Generally, the more aggressive the exfoliation, the less often it needs to be done. Be careful not to over-exfoliate, as this could lead to skin that is red and irritated.
Dry or sensitive skin types: 1-2 times per week
Oily or acne prone skin: 3-4 times per week
If you aren't sure what skin type you have, or if you have questions about exfoliating, see one of our board-certified dermatologists or licensed aestheticians. They will evaluate your skin and help you decide what method of exfoliation will be beneficial for you. Schedule an appointment.
OUR FAVORITE IN-OFFICE EXFOLIATING TREATMENT
SilkPeel Dermalifusion Facial
This is a skin-resurfacing treatment that combines exfoliation, extraction, and infusion of condition-specific serums to improve skin health, function, and glow!
Similar to microdermabrasion, SilkPeel Dermalinfusion exfoliates the upper layers of your skin using a diamond head. Not only does this eliminate dead skin cells, it also delivers a topical solution into the area of the skin where new and healthy skin cells are growing.
BENEFITS:
Is safe for all skin types
Has no downtime
Cleans out pores
Buffs away wrinkles, fine lines and acne scars while rehydrating dry skin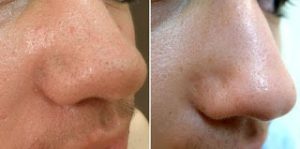 ---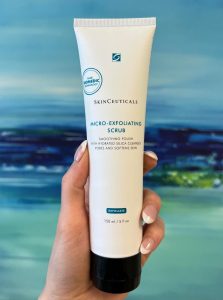 AESTHETICIAN CORNER
Advice from Our Skin Care Specialists – Licensed Aestheticians Katie Velasquez and Ashli La Madrid
SkinCeuticals Micro-Exfoliating Scrub
Smoothing exfoliating scrub with silica effectively cleanses pores and exfoliates to hydrate, soften, and improve skin texture.
We recommend Micro-Exfoliating Scrub as a compliment to most acne and anti-aging regimens. Using 2 to 3 times a week gives your skin a boost in exfoliation to decongest pores and rid your face of dull, dry dead skin. You get an instant glow, allow your skin to absorb product more efficiently, and increase the results from procedures.
SKIN TYPES: Dry, Normal, Oily, Combination
SKIN CONCERN: Dehydrated, Discoloration, Aging
FEATURES: Micro-Exfoliating Scrub features a powerful 2% concentration combining hydrated silica, glycerin, and aloe extract to purify pores and promote a healthy skin barrier. Gentle enough for daily use, this exfoliating scrub provides a mild and even exfoliation to improve texture while softening and hydrating the skin.
BENEFITS:
Mechanically exfoliates skin and polishes away dead skin cells
Delivers hydration to smooth and soften skin's surface
Paraben-, sulfate-, soap-, fragrance-, dye- and alcohol-free
Suitable for dry, normal, oily, or combination skin